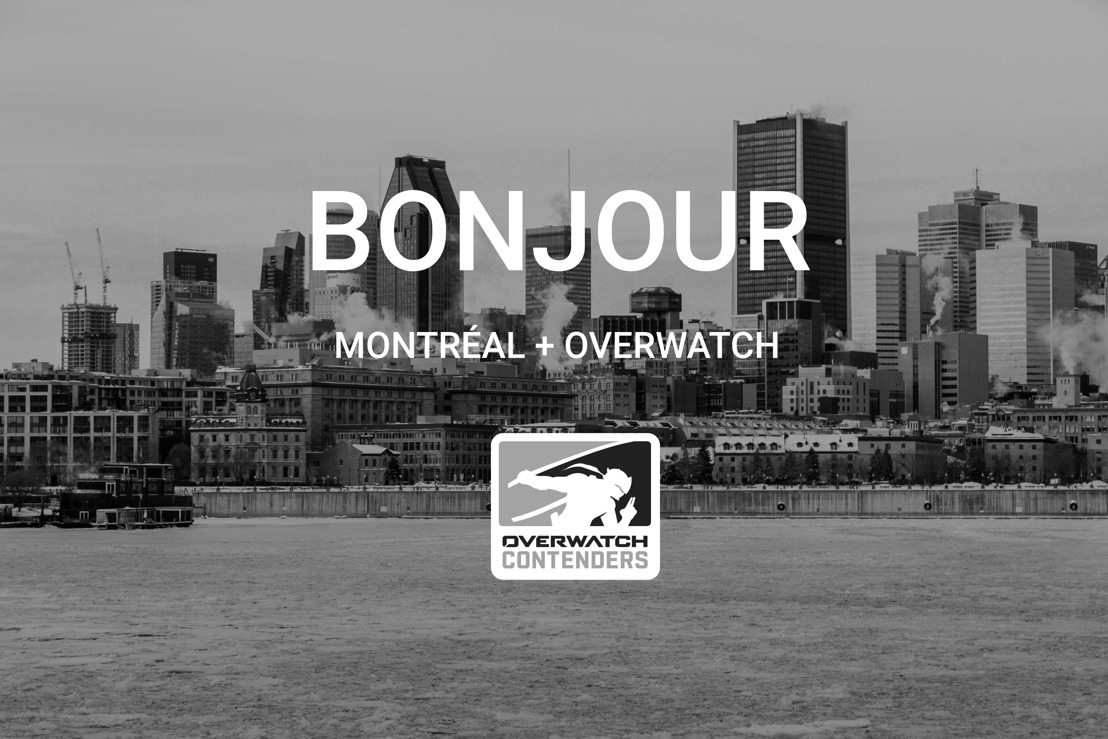 CITY OF MONTREAL NAMED TORONTO DEFIANT'S OVERWATCH ACADEMY TEAM
New Quebec-based franchise will compete in Overwatch Contenders League
**Un message en français suivra**
February 14, 2019 (MONTREAL/TORONTO, CANADA) — OverActive Media (OAM), in collaboration with Mirage Sport Électronique (MSE), announced today a professional esports team for the city of Montreal. The new Quebec-based franchise will compete in the Overwatch Contenders League, A PATH TO THE PROS, and will be Toronto Defiant's official academy team. The new brand identity, logo, team name and players will all be announced early next week at a media event in Montreal.
"This is a huge step toward the democratization of esports in Quebec," said Yannick Babin, President of MSE. "We want to prove that Quebec is able to compete with the giants of esports, and this the first step in doing just that."
The team roster, which will be made public in the coming days, will consist of seven players, two coaches and a General Manager. The entire team will be housed in Montreal, making it the first official pro-esports gaming house in Quebec history. It will serve as a living and training facility for the players and coaches.
"We are really excited about partnering with Yannick and his team to launch the first pro esports franchise in Quebec," added Chris Overholt, President and CEO of OAM. "Today is about continuing our commitment to growing esports nationwide, and expanding our Toronto Defiant fanbase in Quebec and across Eastern Canada."
During the second season of the Overwatch Contenders League, the games will be presented in the brand new Esports Central Arena — the first esports arena in Montreal. The arena will be located downtown on Sainte-Catherine Street, and it can accommodate up to 500 spectators. Montreal fans will be able to come and cheer on their new favourite team. The 2019 Contenders season will begin February 25. The games will be broadcast online in both English and French.
About Mirage Sport Électronique (MSE):
Quebec company specialized in electronic sport. Particularly known for its semi-professional teams and amateurs of electronic sports. In addition, the company works in media production of esports content as well as in event organization.
For French media inquiries, please contact Yannick Babin via email (Yannick.Babin@mirage.gg) or phone 1-438-869-3606.
---
LA VILLE DE MONTRÉAL ÉLUE POUR L'ÉQUIPE ACADÉMIE DE TORONTO DEFIANT
La nouvelle franchise québécoise va évoluer dans la Ligue Overwatch Contenders
14 Février, 2019 (MONTRÉAL/TORONTO, CANADA) — OverActive Media (OAM), en collaboration avec Mirage Sport Électronique (MSE), a annoncé aujourd'hui la toute première équipe professionnelle de sport électronique de la ville de Montréal. La nouvelle franchise basée au Québec participera à la Ligue Overwatch Contenders, un parcours menant à la ligue professionnelle Overwatch League et sera l'équipe académie officielle de Toronto Defiant. La nouvelle identité de la marque, le nouveau logo, le nom de l'équipe et les joueurs seront annoncés au début de la semaine prochaine lors d'un événement médiatique à Montréal.
"Il s'agit d'un énorme pas vers la démocratisation des sports électroniques au Québec," déclare Yannick Babin, Président de MSE. "Nous tenons à prouver que le Québec est en mesure de rivaliser avec les géants du sport électronique et il s'agit d'une première étape pour y arriver."
La composition de l'équipe, qui sera rendue publique dans les prochains jours, sera composée de sept joueurs, de deux entraîneurs et d'un directeur général. Toute l'équipe sera installée à Montréal, ce qui en fera la première gaming house officielle de l'histoire du Québec pour le sport électronique. Elle servira de lieu de vie et d'entraînement pour les joueurs et les entraîneurs.
"Nous sommes très enthousiastes à l'idée de nous associer à Yannick et à son équipe pour lancer la première franchise de esports au Québec.", ajoute Chris Overholt, Président et CEO de OAM. "Il s'agit aujourd'hui de poursuivre notre engagement en faveur de la croissance des sports électroniques à l'échelle nationale et de l'extension de notre base de fans de Toronto Defiant au Québec et dans l'est du Canada."
La première saison des Contenders commencera le 25 février prochain et sera présentée en ligne. Lors de la deuxième saison de la ligue Overwatch Contenders, les matchs seront présentés dans la toute nouvelle arène Esports Central Arena - la première arène esports à Montréal. L'aréna sera située au centre-ville sur la rue Sainte-Catherine et pourra accueillir jusqu'à 500 spectateurs. Les fans de Montréal pourront venir encourager leur nouvelle équipe favorite. La deuxième saison des Contenders débutera en juin de cette année. Les parties seront diffusées en ligne en anglais et en français.
About Mirage Sport Électronique (MSE):
Compagnie québécoise spécialisée dans le sport électronique. Elle est notamment connue pour ses équipes semi-professionnelles et amateurs de sports électroniques. De plus, la compagnie oeuvre dans la production média de contenu esports ainsi que dans l'organisation d'événements.
Yannick Babin: Yannick.Babin@mirage.gg // 1-438-869-3606.
Paulo Senra Vice President, Content and Communications, OverActive Media