CROWN ESPORTS NUTRITION, MAD LIONS SIGN PARTNERSHIP DEAL
July 31, 2020 (MADRID, SPAIN) - MAD Lions and Crown Esports Nutrition, the brand of sports nutrition made for for gamers, announced today a new partnership that takes effect immediately. Both brands have agreed to work on the development of products, habits and ways of working to increase the performance of players.
"We are excited to be working with Crown Esports Nutrition, a brand that prioritizes scientific research and evidence in all of its products," said Vegetta777, YouTuber and MAD Lions Club Member. "We want to bring all of that industry knowledge and transfer all of the great lessons and best practices to the world of esports."
Crown Sport Nutrition is a recognized brand in the world of traditional sports, and is trusted by high performance athletes in various disciplines. Its products are always based on science, quality, and transparency. Crown conducts world-class scientific studies, already having eight publications in Journal Citation Reports (JCR) Q1 and Q2 journals, to ensure all of its products have scientifcially-based support. The quality of the raw materials and formulations are of premium quality, obtaining maximum performance and excellent flavours.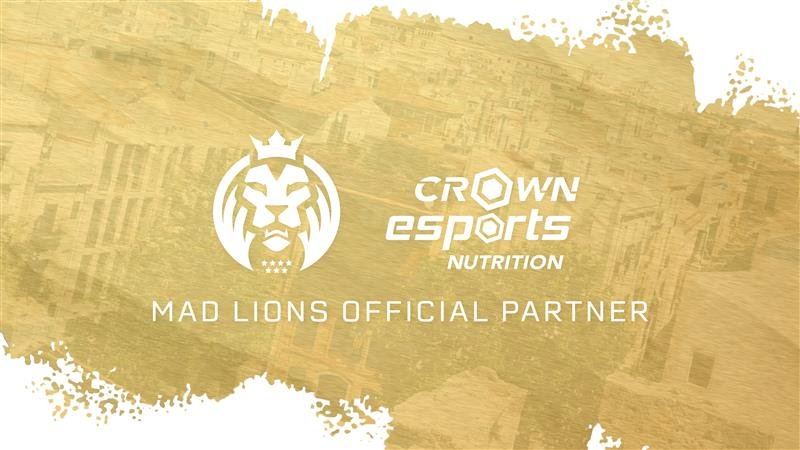 The newly launched Crown Esports Nutrition brand will focus on the esports industry, creating products to improve performance and concentration of gamers, with the aim of contributing to better performance at the highest levels of competition.
MAD Lions, is a Spanish-based esports team, owned by OverActive Media, and competes in the League of Legends European Championship (LEC) and CS:GO's Flashpoint, where they are the defending Flashpoint I champions.
---

Paulo Senra Head of Communications and Public Relations, OverActive Media