ESPORTS ON PAR WITH TRADITIONAL SPORTS FOR GEN Z AND MILLENNIALS
Charlton Insights survey; Overwatch League data show esports competitive with traditional sport
October 7, 2019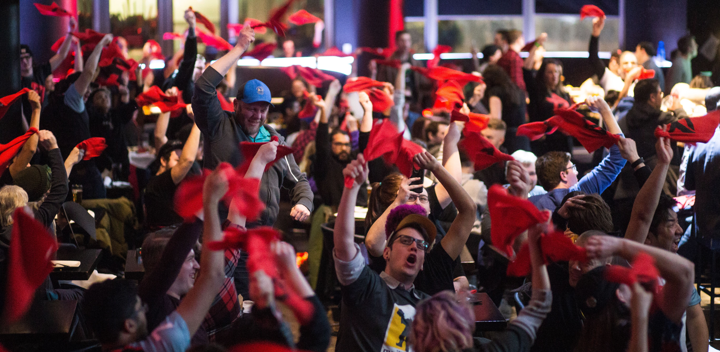 October 7, 2019 (Toronto, Canada) — OverActive Media (OAM), the first global esports entertainment organization to own teams in the three biggest franchised leagues, released survey results providing insights into fandom in Ontario today. Results show that gaming is a huge part of daily life among key demos, especially Generation Z and Millennials, which are more likely to be gamers (69%) than traditional sports fans (61%).
Three major learnings were uncovered in the study: interest in esports rivals some of the major traditional sports leagues; Call of Duty is the most popular gaming title in Ontario; and esports is creating and expanding fandom to new generations.
With Toronto recently securing a franchise slot in the new Call of Duty esports league launching in early 2020, it seems like the city is ready for its arrival. Among Ontarians aged 13-37, the NBA (28%), NHL (23%) and NFL (19%) top the list when it comes to interested sports leagues. Call of Duty (11%) is tied with MLS and behind MLB (16%).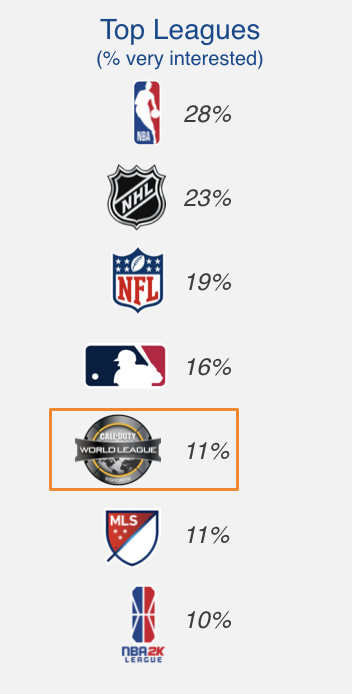 "Interest and passion for the Toronto Defiant and the new Call of Duty Toronto franchise are significant, rivalling some other long-established sport leagues. What is unique, and represents a new generation, is that Toronto's new esports teams are attracting young Canadians who are new to being sports fans," said Gord Hendren, President, Charlton Insights. 
In terms of gaming titles specifically, Call of Duty (33%), Fortnite (28%) and FIFA (18%) are among the top three games played by Generation Z and Millennials (aged 13-37).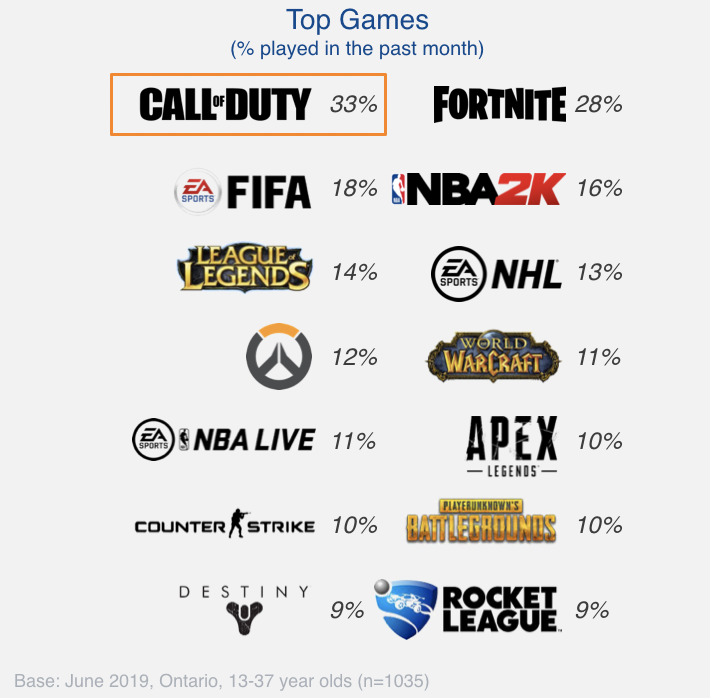 The Toronto Defiant will host home games at Roy Thomson Hall next season, and interest in the league and the game is popular among these two demos as well, with Overwatch (12%) sitting in seventh overall, right behind other global titles such as NBA 2K (16%) and League of Legends (14%). ​
Earlier this month, the second season of the Overwatch League concluded with the San Francisco Shock beating the Vancouver Titans in the Grand Finals at a sold-out Wells Fargo Center in Philadelphia. Viewership numbers have been just released. The total global average minute audience (AMA) of the Grand Finals was 1.12 million, which is a 16% growth versus last year's Finals. ​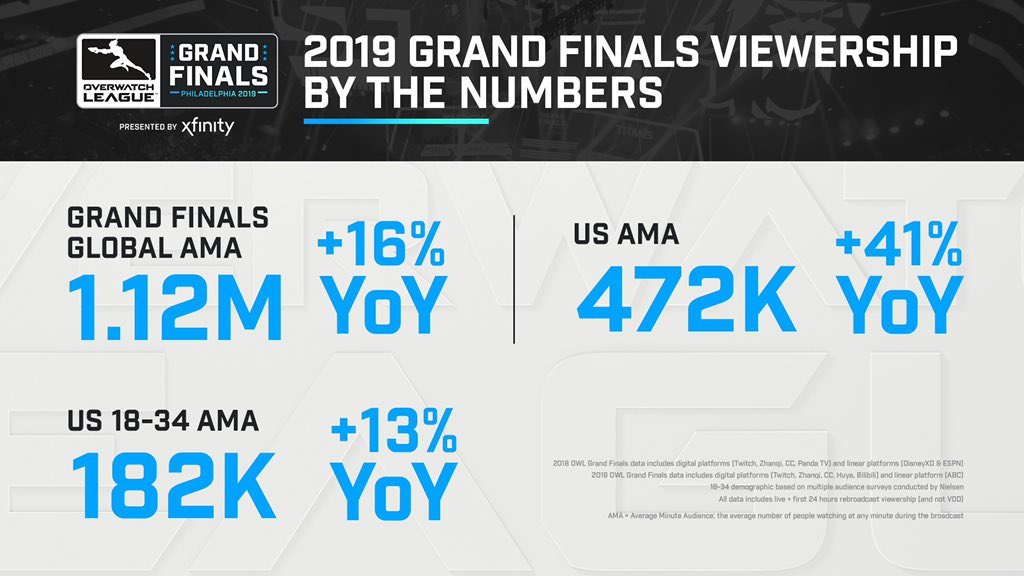 League figures also show that the 2019 season global AMA was 313,000, which is up 18% (YoY). In the USA, the AMA was 95,000, which is up 34% (YoY), marking the fastest growing sport in the United States.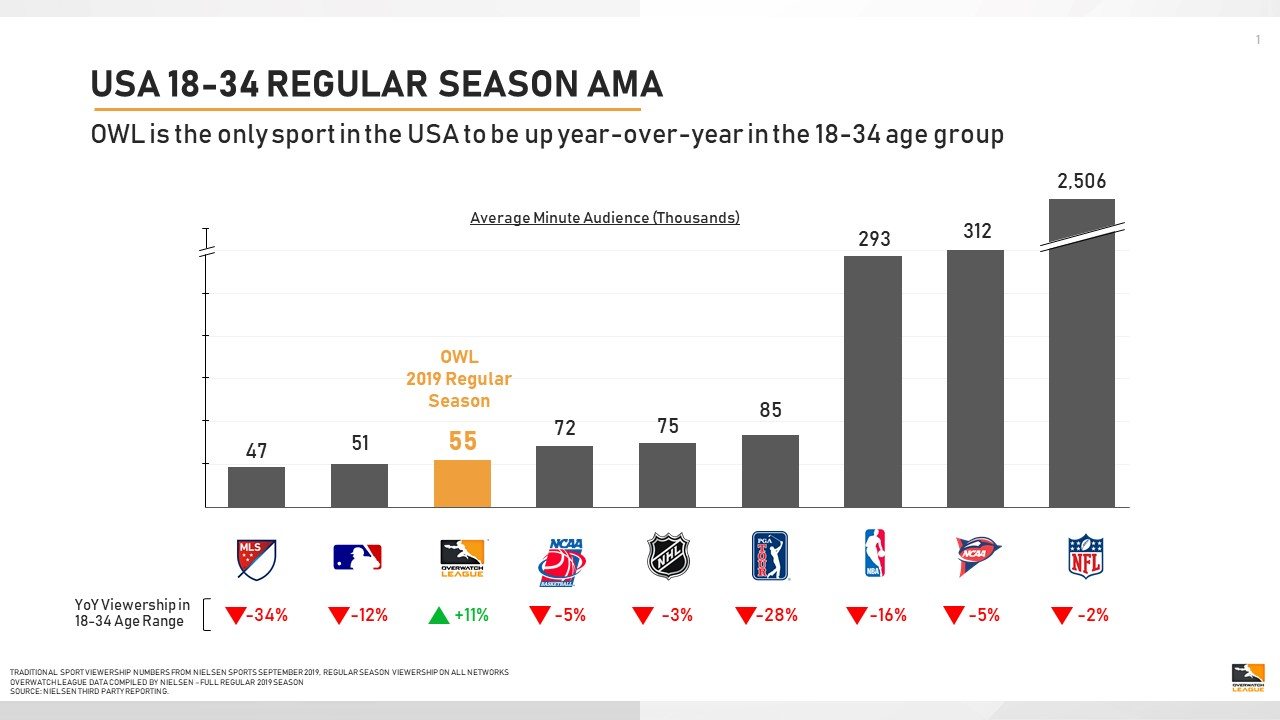 In Canada, where Toronto and Vancouver completed their inaugural seasons, the total viewership reach eclipsed 2.1 million this past regular season and the total hours watched across the country hit 4.8 million.
When it comes to Generation X (38-49 year olds), Call of Duty (25%) still tops the charts, with FIFA (17%) and Fortnite (16%) rounding off the top 3.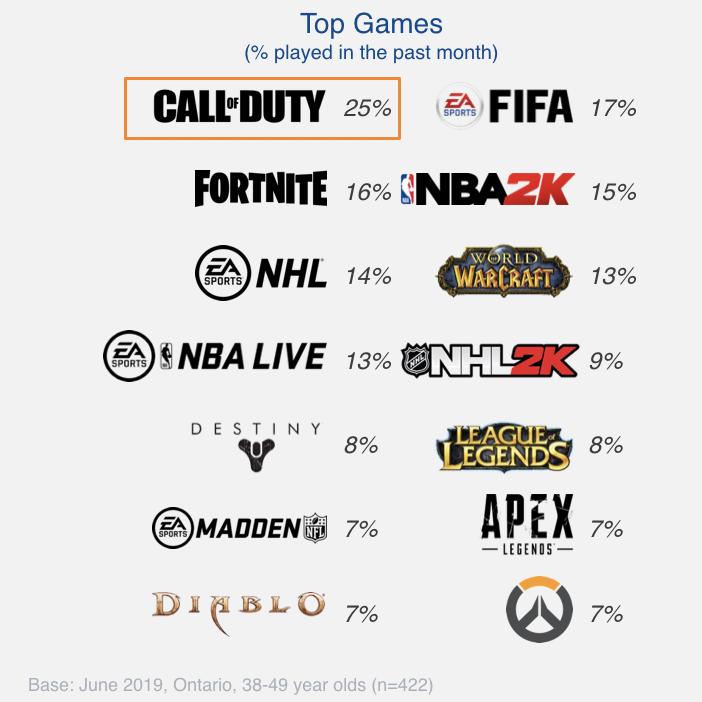 In terms of perceptions of gaming and esports, Generation Z and Millennials rank gaming third overall for unaided mentions of "preferred leisure activity." These demos are also most likely to describe the booming industry as "only going to get bigger in the next five years" (45%); "Esports is a sport for my generation" (37%); and "I never really followed sports before getting into esports" (18%). These prevailing attitudes point to a shift in the way brands and sports leagues define and consider fandom. ​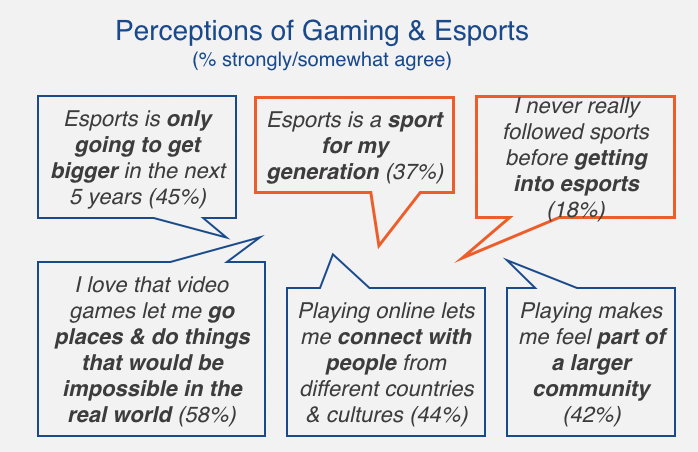 ---
A total of 1,457 Ontarians aged 13-49 completed an online questionnaire between June 10 and July 2, 2019. Research was conducted by Charlton Insights using a nationally established panel and results have been weighted by age and region to be representative of the population aged 13-49.
The survey was offered in English only. Statistical testing was conducted at a 95% confidence interval and the margin of error is + 2.6%, 19 times out of 20.
Report attached below. Charlton Insights President, Gord Hendren, is available for media interviews (

[email protected]

). 
---
Charlton Insights - A New Generation of Sports Fans.pdf
PDF - 6.5 Mb
Download