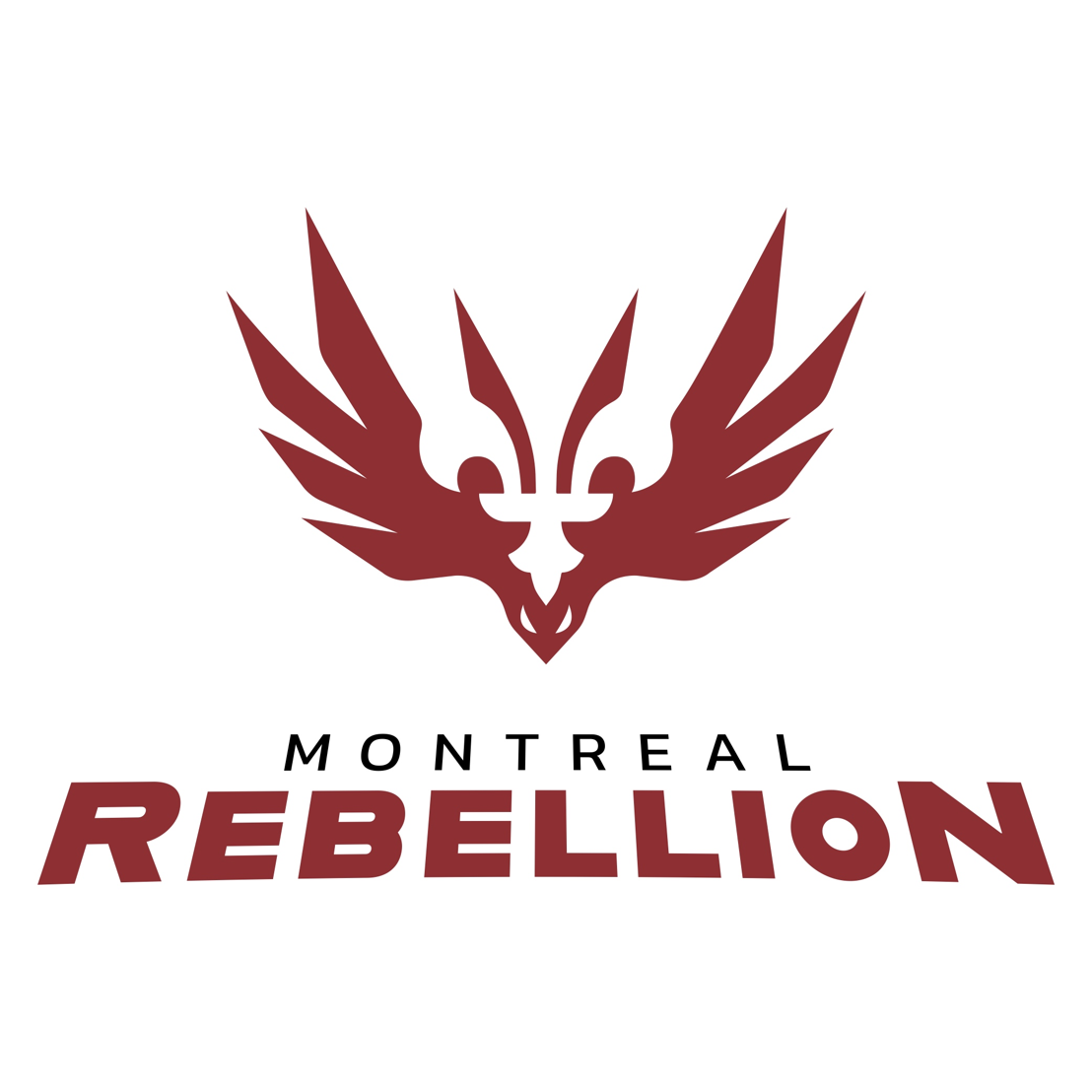 MEET THE MONTREAL REBELLION
MONTREAL REBELLION UNVEILED AS NEW TORONTO DEFIANT OVERWATCH ACADEMY TEAM
**Un message en français suivra**
February 19, 2019 (MONTREAL, CANADA) — OverActive Media (OAM), in collaboration with Mirage Sport Électronique (MSE), unveiled Quebec's newest pro franchise, the MONTREAL REBELLION's new brand identity, logo and players at a private party in downtown Montreal. The new Quebec-based franchise will be Toronto Defiant's official Overwatch Academy team.
The new Rebellion logo consists of a bird, representing freedom depicted by its liberating flight. The general shape of the bird also subtly creates an 'M' shaped negative space, to create a connection with Montreal. It is subtle enough so that the logo does not become jarring, but it adds an interesting hidden depth to the logo. It is combined with the Fleur-de-lys, a powerful patriotic symbol for the people of Québec, as it is on its flag and embodies Canada's rich French heritage. Together, the bird and the Fleur-de-lys, create a unifying message for Canada's newest esports franchise: a rebellion of esports athletes with a strong sense of belonging and identity.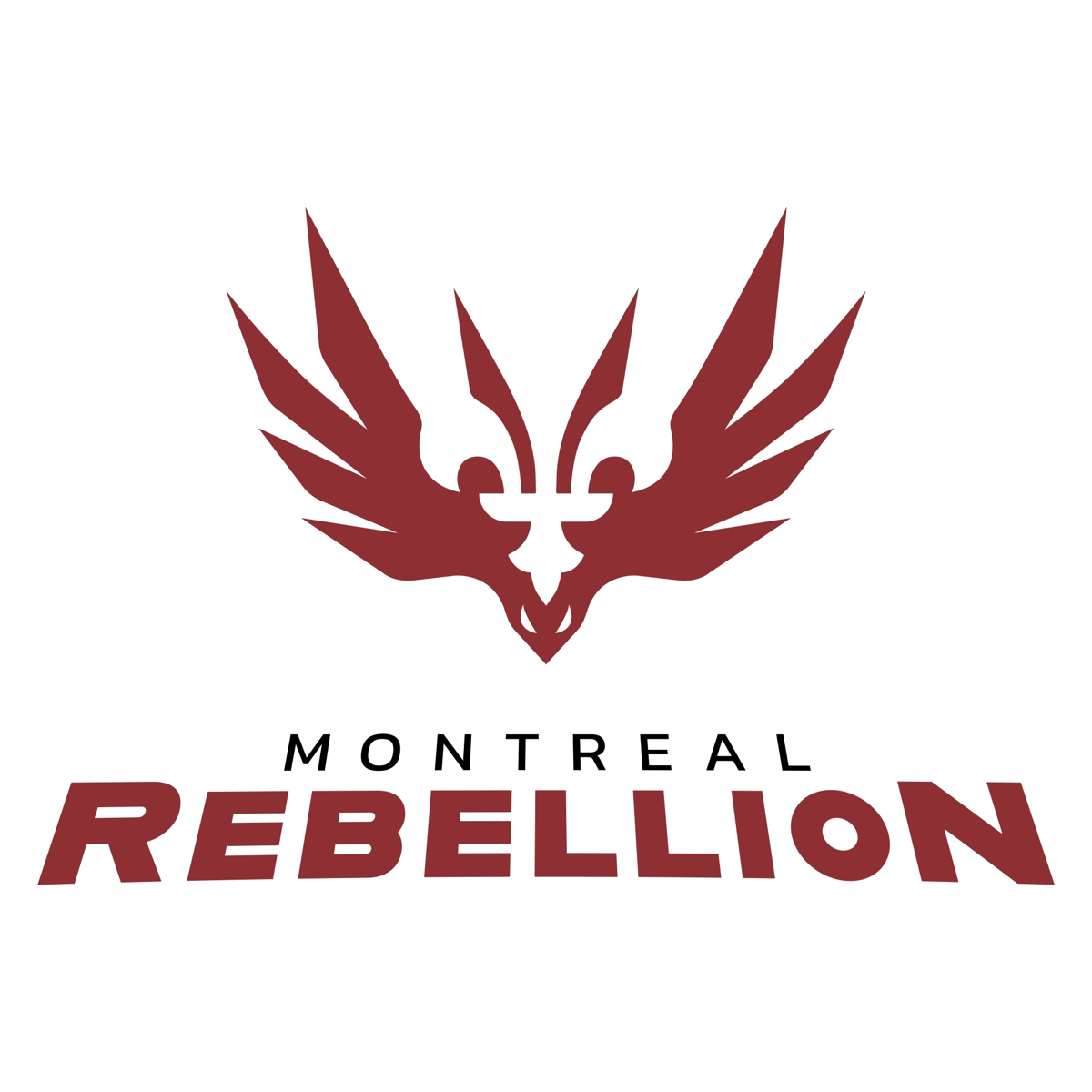 The team roster, which has been slowly announced this past week on Rebellion's Twitter page, consists of Canadian-born (Gatineau, QC) main tank, Chayne; American supports, Goliath and Tensa; Brazilian tank, Hooey; Europeans Nagga and Logix; and Mexican tank and Overwatch vet, Nomy. The coaching staff consists of Chris "Dream" Myrick and Alex "byZenith" Ames, while Brian "Blizzard" Childers will serve as General Manager of the team. The entire team will be housed in Montreal, making it the first official pro-esports gaming house in Quebec history. It will serve as a living and training facility for the players and coaches.
"We are so excited at the diverse backgrounds and player skill sets we have already assembled for our new Rebellion team, and since our players live and will be playing in Canada, we want to be a model for the future generations of Canadian esports athletes," said Yannick Babin, President of Mirage Electronic Sport.
"Partnering with Yannick and his team to launch the Rebellion continues our real commitment to growing the Overwatch community and esports nationwide. Our aim here is to expand our Toronto Defiant fanbase into Quebec and across Eastern Canada and create a viable pipeline to the pros for Canadian players," added Chris Overholt, President and CEO of OAM.
During the second season of the Overwatch Contenders League, the games will be presented in the brand new Esports Central Arena — the first esports arena in Montreal. The arena will be located downtown on Sainte-Catherine Street, and it can accommodate up to 500 spectators. Montreal fans will be able to come and cheer on their new favourite team. The 2019 Contenders season will begin February 25. The games will be broadcast online in both English and French.
Click here to follow, the Rebellion journey.
About Mirage Sport Électronique (MSE):
Quebec company specialized in electronic sport. Particularly known for its semi-professional teams and amateurs of electronic sports. In addition, the company works in media production of esports content as well as in event organization.
For French media inquiries, please contact Yannick Babin via email (Yannick.Babin@mirage.gg) or phone 1-438-869-3606.
---
FAITES PLACE À LA RÉBELLION DE MONTRÉAL!
LA RÉBELLION DE MONTRÉAL DÉVOILÉE COMME ÉTANT LA NOUVELLE ÉQUIPE ACADÉMIE DE TORONTO DEFIANT!
Montréal le 19 février 2019 — OverActive Media (OAM), en collaboration avec Mirage Sport Électronique (MSE), ont récemment dévoilé l'identité de marque, le logo et les joueurs de leur nouvelle équipe ''La Rébellion de Montréal'' lors d'une soirée privée de lancement au centre-ville de Montréal. La nouvelle franchise basée au Québec sera l'équipe officielle de l'Overwatch Academy de Toronto Defiant.
Le nouveau logo de la Rébellion consiste en un oiseau, représentant la liberté par son vol émancipateur. La forme générale de l'oiseau dévoile subtilement un espace négatif en forme de «M», afin de créer une connexion avec Montréal. Il est assez subtil pour que le logo ne devienne pas discordant, mais cela ajoute une profondeur cachée et intéressante au logo. Il est associé à la Fleur-de-lys, un puissant symbole patriotique pour les Québécois, celle-ci figure sur leur drapeau et incarne le riche héritage français du Canada. Ensemble, l'oiseau et la Fleur-de-lys forment un message unificateur pour la plus récente franchise de sport électronique au Canada: une rébellion d'athlètes de sports électroniques ayant un fort sentiment d'appartenance et d'identité.
La composition de l'équipe, annoncée lentement la semaine dernière sur les pages Twitter et Facebook de Rébellion, comprend à titre de ''Main Tank'', Chayne, né au Canada (Gatineau, QC); les deux ''Support'' américains, Goliath et Tensa; le ''Tank'' brésilien, Hooey; Les Européens Nagga et Logix; et le ''Tank'' et vétéran d'Overwatch mexicain, Nomy. Le personnel d'entraîneurs se compose de Chris "Dream" Myrick et Alex "byZenith" Ames, alors que Brian "Blizzard" Childers prendra place en tant que directeur général de l'équipe. L'équipe sera installée dans une maison à Montréal qui servira de lieu de vie et d'entraînement aux joueurs et aux entraîneurs de celle-ci. Il s'agit donc de la première ''gaming house'' officielle de l'histoire du Québec.
«Nous sommes très enthousiastes face à l'expérience et aux compétences des joueurs que nous avons rassemblés pour notre toute nouvelle équipe, Rébellion. De plus, puisque nos joueurs vivront et joueront au Canada, nous souhaitons devenir un modèle pour les futures générations d'athlètes canadiens de sports électroniques»
A déclaré Yannick Babin, président de Mirage Electronic Sport.
«L'association avec Yannick et de son équipe pour le lancement de Rébellion poursuit notre engagement en faveur de la croissance de la communauté d'Overwatch et de l'esports au niveau national. Notre objectif ici est d'étendre notre base de fans ''Toronto Defiant'' au Québec et dans tout l'est du Canada et ainsi créer un réseau viable pour les joueurs professionnels », a ajouté Chris Overholt, président de OAM.
Lors de la deuxième saison de la ligue Overwatch Contenders, les parties seront diffusées dans la toute nouvelle arène Esports Central - la première arène esports à Montréal. L'arène sera située au centre-ville, rue Sainte-Catherine, et pourra accueillir jusqu'à 500 spectateurs. Les fans de Montréal pourront venir encourager leur nouvelle équipe favorite! La saison 2019 des Contenders débutera le 25 février. Les parties seront diffusées en ligne en anglais et en français.
À propos de Mirage Sport Électronique:
Compagnie québécoise spécialisée dans le sport électronique. Elle est notamment connue pour ses équipes semi-professionnelles et amateurs de sports électroniques. De plus, la compagnie oeuvre dans la production média de contenu esports ainsi que dans l'organisation d'événements.
Paulo Senra Vice President, Content and Communications, OverActive Media