OverActive Media Reports Second Quarter 2023 Financial Results
65% Year-Over-Year Revenue Growth
August 17, 2023

August 17, 2023 (TORONTO, CANADA) – OverActive Media ("OverActive" or the "Company") (TSXV: OAM) (OTCQB: OAMCF), a global sports, media and entertainment company for today's generation of fans, today released its second quarter results for the three-and-six-month period ended June 30, 2023. Unless otherwise specified, all amounts are in Canadian dollars ($).
Second Quarter 2023 Achievements
Total revenues grew by 65% to $3.9 million, a $1.5 million improvement relative to the prior year period, primarily driven by league revenue share and an increase in team performance-related revenue.
Adjusted EBITDA[i] loss of $2.5 million, a $1.3 million improvement relative to the prior year period.
At June 30, 2023, the Company had cash and cash equivalents of over $9.3 million.
On June 5, 2023, OverActive announced a deal with the Overwatch League, including signing a sponsorship for Toronto Defiant and eliminating outstanding entry fees. This agreement, which includes early payment of league revenue share, is valued at $10.8 million.
MAD Lions, OverActive's League of Legends "LEC" team, won the LEC 2023 Spring Championship on April 23, 2023, hitting peak viewership of over 570,000, the highest viewership across all teams to date.
MAD Lions has the highest peak viewership across the LEC and the LCS and placed in the top five matches in terms of viewership at MSI 2023 in London, peaking at over 1 million concurrent viewers on May 10, 2023[ii].
OverActive hosted the Call of Duty League's Major V at Mattamy Athletic Centre in Toronto on May 25 to 28, 2023. The event saw over 9,000 fans and sold-out attendance across Saturday and Sunday.
The Call of Duty League Championships were held June 15 to 19, 2023, in Las Vegas, NV. OverActive's Toronto Ultra qualified for the Grand Finals, finishing in second place.
Significant Announcements Subsequent to Quarter End
Post quarter end, Activision Blizzard disclosed that up to a further US$6 million ($7.9 million) payment may be made to each participating Overwatch League team, including Toronto Defiant, subject to certain conditions.
The Company renewed its sponsorship agreement with Red Bull for two additional years as its Official Energy Drink.
OverActive announced that, in collaboration with the Overwatch League, it will host the 2023 Overwatch League Grand Finals in Toronto, Canada, from September 28 to October 1, 2023.
Year to date, OverActive's professional esports teams have reached more than 42 million hours watched across all tournament matches.[iii]
Toronto Ultra, OverActive's Call of Duty League team, signed Call of Duty Champion and All-Star team member Dylan "Envoy" Hannon to its 2024 season roster.
MAD Lions finished top two in the regular season, qualifying for the LEC 2023 Season Finals.
"I am thrilled to report that our company experienced tremendous revenue growth during the second quarter - a 65% year-over-year increase," said Adam Adamou, Co-Founder and Interim CEO. "We are determined to drive towards a near breakeven Adjusted EBITDA over the year's second half."
Mr. Adamou continued, "Our leadership role in discussions between leagues and publishers regarding a sustainable esports ecosystem was highlighted when we struck an agreement with the Overwatch League in June valued at $10.8 million, most of which will be recorded in the second half of 2023. Since then, Activision Blizzard has further disclosed that an additional $7.9 million (US$6 million) may be payable to each team participating in the league, including OverActive. We expect the teams to determine by year-end whether to accept this offer."
The Company's consolidated unaudited financial statements, notes to financial statements, and Management's Discussion and Analysis for the three and six-month periods ended June 30, 2023, are available on the Company's website at www.overactivemedia.com and under the Company's profile on SEDAR at www.sedarplus.ca.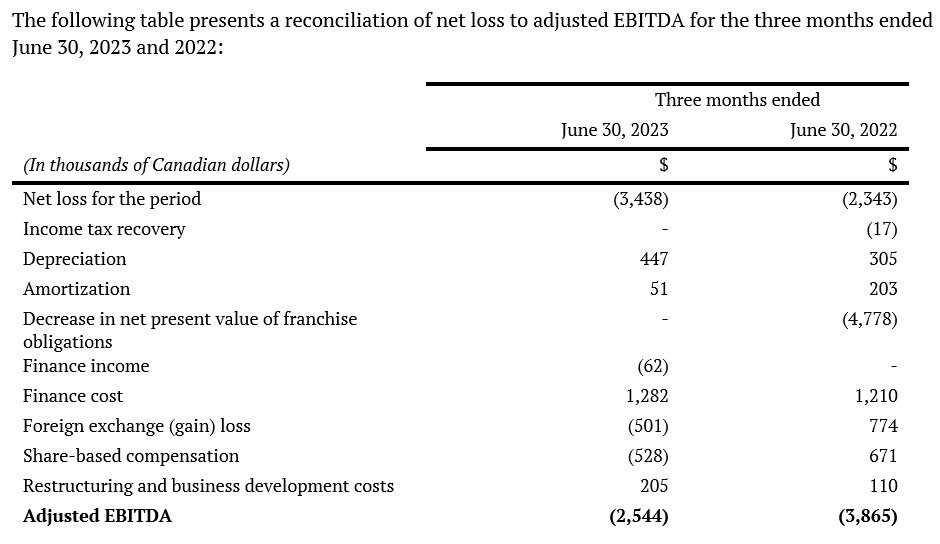 Conference Call
The Company will conduct a conference call tomorrow, Friday, August 18, 2023 at 9:00 a.m. (Eastern Time) to review the second quarter results, as well as provide an overview of the Company's recent milestones and growth strategy.
To access the conference call without operator assistance, please register and enter your phone number at https://emportal.ink/44FOeQ6 to receive an instant automated callback. To dial directly to be entered into the call by an operator, please dial 1-888-390-0605, or for international callers, 416-764-8609. A replay will be available shortly after the call and can be accessed by dialling 1-888-390-0541 or, for international callers, 416-764-8677. The entry code for the replay is 960728#. The replay will expire on Friday, August 25, 2023.
A live conference call webcast can be accessed on OverActive's website at www.overactivemedia.com or directly via https://app.webinar.net/zgw4AwVjNDp. An online webcast archive will be available via the same link for 90 days following the call.
[i] Adjusted EBITDA is a non-IFRS measure. Refer to "Non-IFRS Measures" at the end of this press release.
[ii] https://twitter.com/esportscharts/status/1660563649352663041
[iii] https://escharts.com/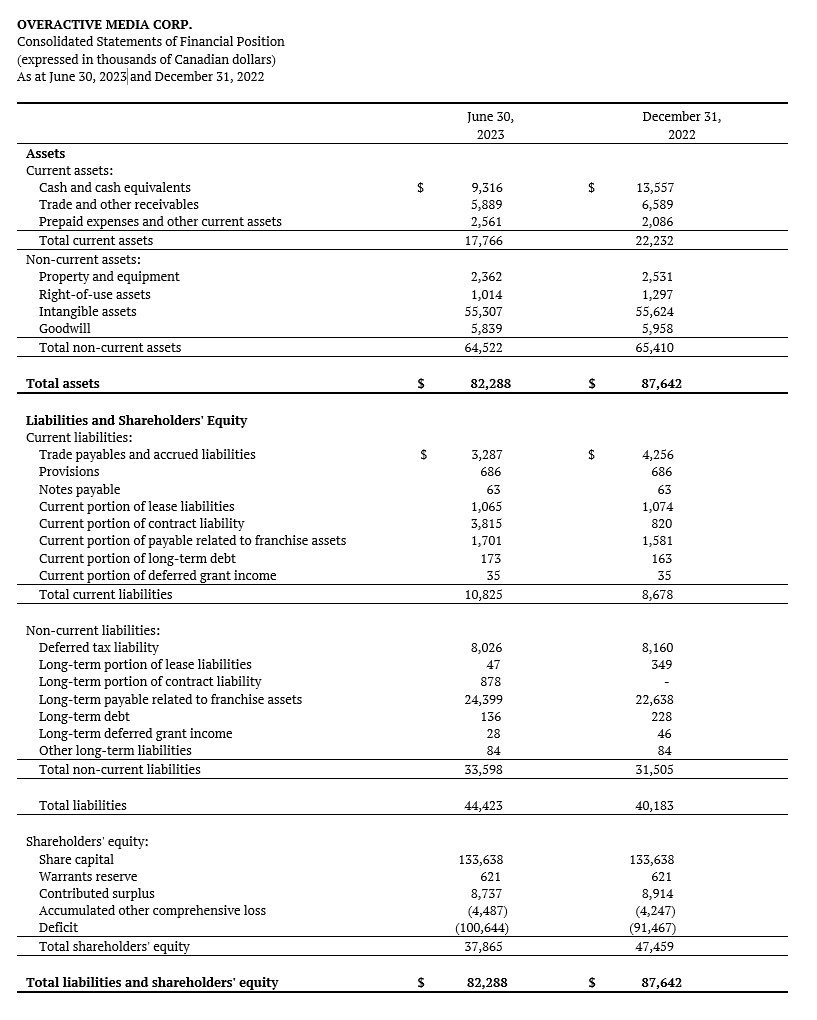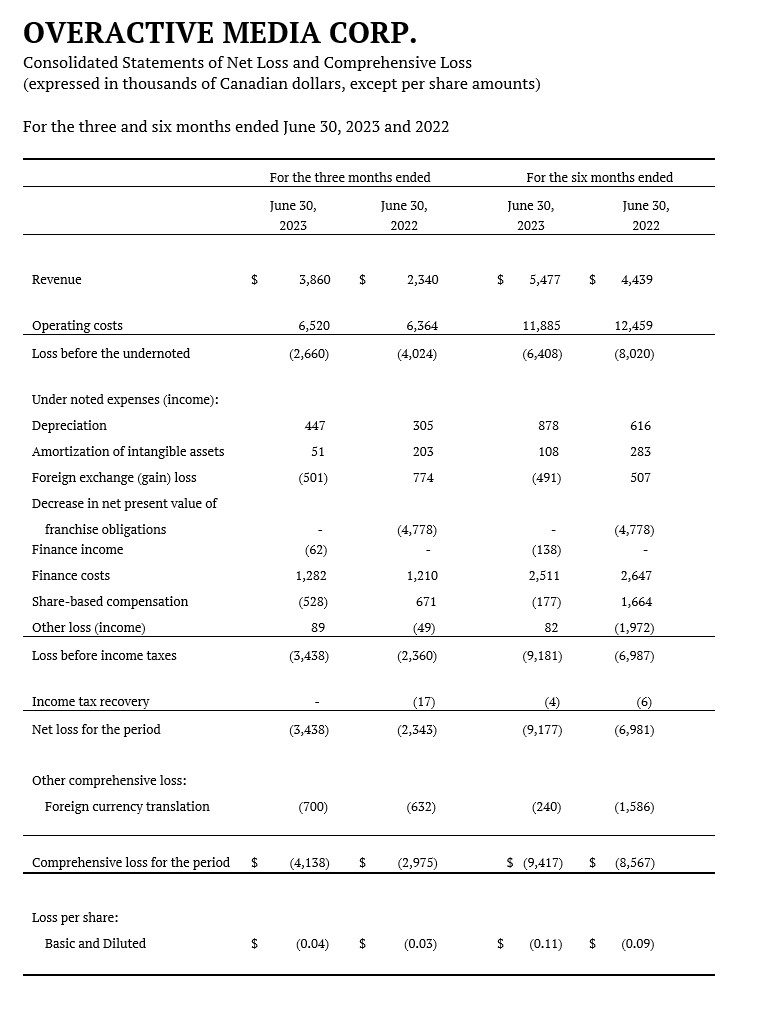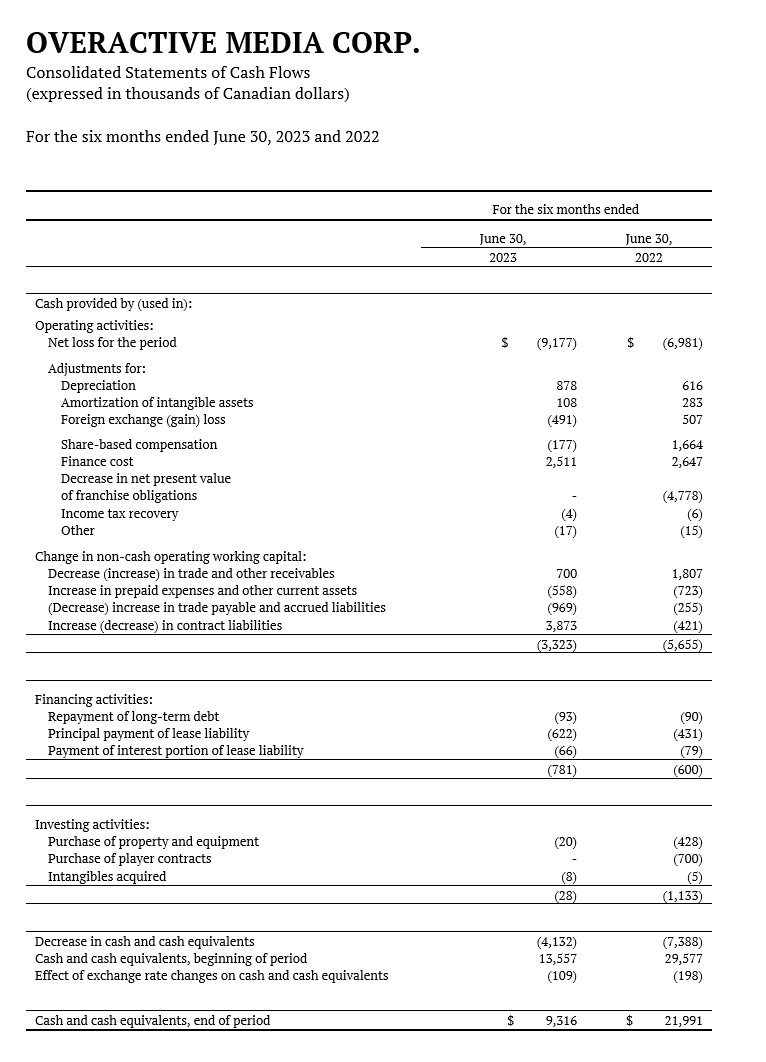 ---
Cautionary Note Regarding Forward-Looking Information
This press release contains statements which constitute "forward-looking statements" and "forward-looking information" within the meaning of applicable securities laws (collectively, "forward-looking statements"), including statements regarding the plans, intentions, beliefs and current expectations of OverActive with respect to future business activities and operating performance. Forward-looking statements are often identified by the words "may", "would", "could", "should", "will", "intend", "plan", "anticipate", "believe", "estimate", "expect" or similar expressions and includes information regarding the anticipated financial and operating results of OverActive in the future.
Investors are cautioned that forward-looking statements are not based on historical facts but instead OverActive management's expectations, estimates or projections concerning future results or events based on the opinions, assumptions and estimates of management considered reasonable at the date the statements are made. Although OverActive believes that the expectations reflected in such forward-looking statements are reasonable, such statements involve risks and uncertainties, and undue reliance should not be placed thereon, as unknown or unpredictable factors could have material adverse effects on future results, performance or achievements of the OverActive. Among the key factors that could cause actual results to differ materially from those projected in the forward-looking statements include the following: the potential impact of OverActive's qualifying transaction on relationships, including with regulatory bodies, employees, suppliers, customers and competitors; changes in general economic, business and political conditions, including changes in the financial markets; changes in applicable laws and regulations both locally and in foreign jurisdictions; compliance with extensive government regulation; the risks and uncertainties associated with foreign markets; the ability of the Company to continue to execute on its existing partnerships and business strategy; the ability of the MAD Lions and Call of Duty Leagues to maintain viewership; the successful completion of the Company's new venue; and other risk factors set out in OverActive's annual information form for the year ended December 31, 2021 and its other filings with Canadian securities regulators, copies of which may be found under OverActive's profile at www.sedarplus.ca. These forward-looking statements may be affected by risks and uncertainties in the business of OverActive and general market conditions, including COVID-19.
Should one or more of these risks or uncertainties materialize, or should assumptions underlying the forward-looking statements prove incorrect, actual results may vary materially from those described herein as intended, planned, anticipated, believed, estimated or expected. Although OverActive has attempted to identify important risks, uncertainties and factors which could cause actual results to differ materially, there may be others that cause results not to be as anticipated, estimated or intended and such changes could be material. OverActive does not intend and do not assume any obligation, to update the forward-looking statements except as otherwise required by applicable law.
Non-IFRS Measures
This press release includes references to adjusted EBITDA. Adjusted EBITDA is a non-IFRS financial measure and is defined by the Company as net income or loss before income taxes, finance costs, depreciation and amortization, decrease/increase in net present value of franchise obligations, foreign exchange gains/loss, assistance payments from Franchise League and government assistance, restructuring and business development costs, reverse takeover costs, intangibles assets impairment charge and share-based compensation. We believe that adjusted EBITDA is a useful measure of financial performance because it provides an indication of the Company's ability to capitalize on growth opportunities in a cost-effective manner, finance its ongoing operations and service its financial obligations.
This non-IFRS financial measure is not an earnings or cash flow measure recognized by IFRS and does not have a standardized meaning prescribed by IFRS. Our method of calculating such a financial measure may differ from the methods used by other issuers and, accordingly, our definition of this non-IFRS financial measure may not be comparable to similar measures presented by other issuers. ​ Investors are cautioned that non-IFRS financial measures should not be construed as an alternative to net income determined in accordance with IFRS as indicators of our performance or to cash flows from operating activities as measures of liquidity and cash flows.
A reconciliation of Adjusted EBITDA to net income/loss may be found in the Company's Management's Discussion and Analysis for the three and six-month periods ended June 30, 2023.
Neither the TSXV nor its Regulation Services Provider (as that term is defined in the policies of the TSXV) accepts responsibility for the adequacy or accuracy of this release.