OverActive Media Unveils Global Content Creator Academy
Roster of Diverse Influencers Adds Social Reach of Over 15 Million
September 7, 2023

September 7, 2023 (TORONTO, ONTARIO) – OverActive Media (TSXV: OAM) (OTCQB: OAMCF) ("OverActive" or the "Company"), a global sports, media and entertainment company for today's generation of fans, unveiled its Content Creator Academy, a roster of 20 diverse influencers that represent the Toronto Ultra, Toronto Defiant and MAD Lions brands. The combined reach of the Company's new Content Creator Academy is over 15 million across TikTok, Twitch, YouTube, Twitter, Instagram, Facebook, and Trovo. A pillar of OverActive's integrated marketing strategy, the ever-evolving Content Creator Academy provides the Company's team brands and partners with significant opportunities to connect with new audiences.
"OverActive's Content Creator Academy is our investment in the creator space. We see value in building a robust network that can benefit from each other to produce content that resonates in a competitive environment," said Matt McGlynn, Vice-President, Marketing and Brand, OverActive Media. "Our fans are our priority, and creators allow us to share engaging content with the community while growing our reach across the most progressive social platforms."
"The recent Toronto Esports Strategy led by Ontario Creates and the City of Toronto highlights the importance of esports to local economies, including the need to reverse the 'creator brain drain' in our key global markets. We applaud the initiative taken by government stakeholders to better understand how esports can be an economic pillar for the city and the province," said Adam Adamou, Co-Founder and Interim CEO, OverActive Media. "As an industry leader, this initiative, paired with our strengths in production, broadcasting and live events, reinforces our efforts to grow gaming and esports content opportunities for creators."
OverActive continues to grow its audience reach. From 2021 to 2022, the Company achieved a 43% year-over-year increase in total audience engagement, including significant growth on TikTok. Toronto Ultra, the Company's professional Call of Duty League team, surpassed 1 million followers across its social platforms earlier this year. In launching its Content Creator Academy, the Company will build on the strength of its existing audience by increasing impressions and engagements in Canada and Spain.
The OverActive Content Creator Academy consists of the following influencers: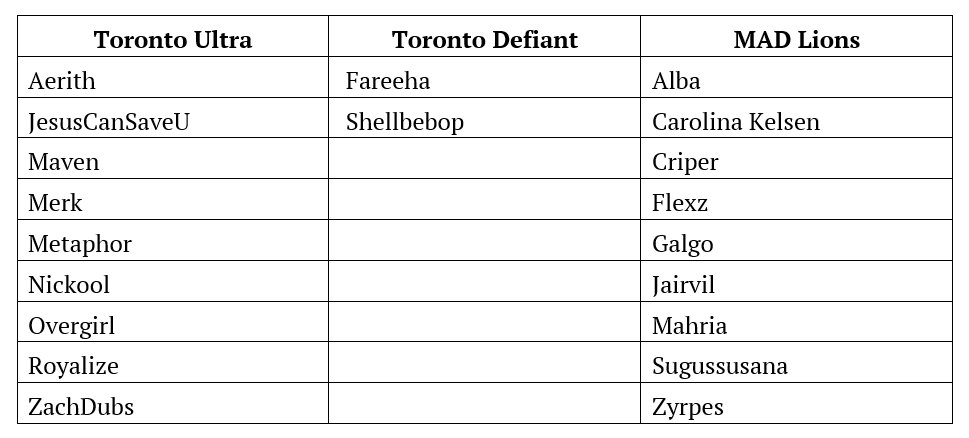 "Our roster of creators reflects our established global brand. With a reach of over 15 million, they represent a meaningful audience driver for OverActive and our partners," said Alyson Walker, Chief Commercial Officer, OverActive Media. "Every professional esports league we're in is unique, bringing with it their own communities and fans. We're thrilled to make OverActive's Content Creator Academy official and to kick things off with such a diverse group."
Check out OverActive's Content Creator Academy at overactivemedia.com/content-creator-academy/ for the latest roster news.
---
Cautionary Note Regarding Forward-Looking Information
This press release contains statements which constitute "forward-looking statements" and "forward-looking information" within the meaning of applicable securities laws (collectively, "forward-looking statements"), including statements regarding the plans, intentions, beliefs and current expectations of OverActive with respect to future business activities and operating performance. Forward-looking statements are often identified by the words "may", "would", "could", "should", "will", "intend", "plan", "anticipate", "believe", "estimate", "expect" or similar expressions and includes information regarding expectations for other economic, business, and/or competitive factors.
Investors are cautioned that forward-looking statements are not based on historical facts but instead OverActive management's expectations, estimates or projections concerning future results or events based on the opinions, assumptions and estimates of management considered reasonable at the date the statements are made. Although OverActive believes that the expectations reflected in such forward-looking statements are reasonable, such statements involve risks and uncertainties, and undue reliance should not be placed thereon, as unknown or unpredictable factors could have material adverse effects on future results, performance or achievements of the OverActive. Among the key factors that could cause actual results to differ materially from those projected in the forward-looking statements are the following: changes in general economic, business and political conditions, including changes in the financial markets; changes in applicable laws and regulations both locally and in foreign jurisdictions; compliance with extensive government regulation; the risks and uncertainties associated with foreign markets; and risk factors set out in OverActive's annual information form for the year ended December 31, 2021. These forward-looking statements may be affected by risks and uncertainties in the business of OverActive and general market conditions, including COVID-19.
Should one or more of these risks or uncertainties materialize, or should assumptions underlying the forward-looking statements prove incorrect, actual results may vary materially from those described herein as intended, planned, anticipated, believed, estimated or expected. Although OverActive has attempted to identify important risks, uncertainties and factors which could cause actual results to differ materially, there may be others that cause results not to be as anticipated, estimated or intended and such changes could be material. OverActive does not intend, and does not assume any obligation, to update the forward-looking statements except as otherwise required by applicable law.
Neither the TSXV nor its Regulation Services Provider (as that term is defined in the policies of the TSXV) accepts responsibility for the adequacy or accuracy of this release.