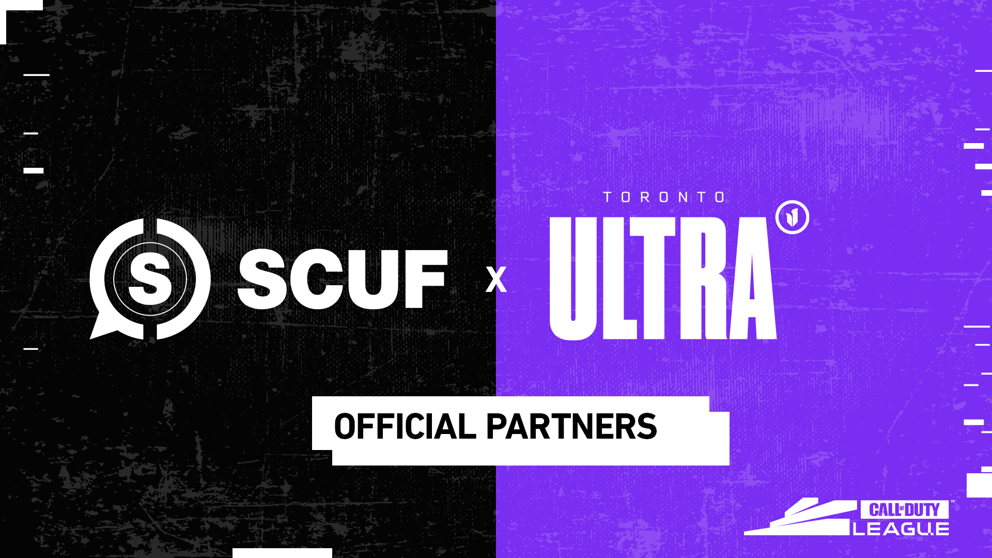 TORONTO ULTRA PARTNERS WITH SCUF GAMING
SCUF becomes the Official Controller and Official Accessory Partner of Toronto Ultra
JUNE 11, 2020 (TORONTO, CANADA) — Canada's only professional Call of Duty franchise, the Toronto Ultra,  and global innovator and creator of high-performance gaming controllers, SCUF Gaming (SCUF) announced a multi-faceted partnership today. The two brands will work together on content, marketing and advertising initiatives and SCUF will also be part of the online Toronto Ultra Home Series presented by Bell on July 24-26, 2020.
In the coming weeks, SCUF will be releasing a custom Toronto Ultra controller with more details to come later this month. The new partnership is effective immediately, and SCUF will work on opportunities to support players with custom controllers and engage with players on custom social and content marketing.
"I've been using SCUF for as long as I can remember," said Methodz, Toronto Ultra player. "As a pro, a SCUF controller really helps in giving you an edge against your opponent. I'm proud to be part of team SCUF."
"SCUF believes there is a better way to play and has built a reputation of pushing the boundaries through innovation, and we are proud to be partnering with such a quality endemic brand," said Chris Overholt, President and CEO, OverActive Media.
"SCUF has a long history of supporting the competitive Call of Duty scene by providing players with the controllers needed for them to perform at their best," added Duncan Ironmonger, Founder and CEO of SCUF Gaming. "The functional features of our controllers are advantageous for players to increase the dexterity of their hands. We're excited to be backing the Toronto Ultra and the rest of the Call of Duty League."
Currently, SCUF already sponsors some Toronto Ultra players and coaching staff including: Methodz, Loony, Brack, Cammy, Bance, Mark Bryceland (Coach) and Dominique Gelineau (General Manager). This new partnership will see Toronto Ultra players get equipped with SCUF Gaming controllers to train and compete. SCUF is also a Call of Duty League official partner.

SCUF Gaming®, innovator and creator of high-performance gaming controllers, provides superior accessories and customized gaming controllers for consoles and PC that are used by top professional gamers as well as casual gamers. Built to specification, SCUF controllers offer a number of functional and design features custom built to increase hand use and improve gameplay. SCUF controller features are covered by 118 granted patents and designs, and another 52 pending patent applications, focusing on four key areas of a controller: the back control functions and handles, the trigger control mechanisms, the thumb-stick control area and the side-mounted configurable Sax ™ button placements.
---

Paulo Senra
Head of Communications and Public Relations, OverActive Media